Thank you for joining
Chris Moss CPA
on
TaxView
Days after President Roosevelt signed into law the "Current Tax Payment Act of 1943" 60 million Americans were instantly introduced to withholding on wages. Forced withholding was sold to the American people as a war-time emergency, a temporary radical loss of freedom to collect maximum revenue from the maximum number of taxpayers. How dramatic was the effect of this new law requiring withholding on wages? From 1943 to 1945, in just two years United States revenue collection increased from 7 Billion to 43 Billion with 60 Million new taxpayers all receiving that strange new tax form called the W2.. Stay with us here on
TaxView
to discover what W2 replacement in the 21st century will save our economy and dramatically reduce the National Debt.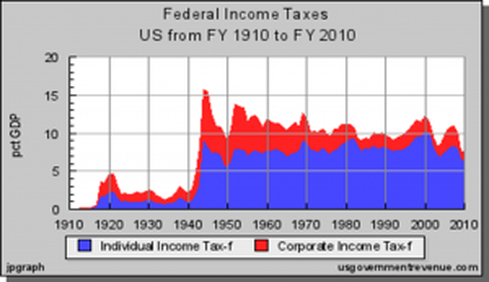 Fast forward to 2014. The major costs of government is now domestic entitlements including medicare, disability, and social security.. Wars are costly, but are not as expensive as entitlements. and have never been a major burden to US growth and prosperity,.
Costs of Major U.S. Wars, 1775-2013 In todays dollars % of GDP
American Revolution 1775-1783 2 Billion N/A
War of 1812 1812-1815 2 Billion 2%
Mexican War 1846-1849 2 Billion 1%
Civil War: Union 1861-1865 60 Billion 11%
Civil War: Confederacy 1861-1865 20 Billion N/A
Spanish-American War 1898-1899 9 Billion 1%
World War I 1917-1921 334 Billion 13%
World War II 1941-1945 4 Trillion 36%
Korea 1950-1953 341 Billion 4%
Vietnam 1965-1975 738 Billion 2%
Persian Gulf War 1990-1991 102 Billion 1%
Iraq 2003-2010 784 Billion 1%
Afghanistan 2001-2010 1 Trillion
1%
In today's dollars only WW II was a significant cost as a percent of GDP. The Government back then in the 1940s borrowed the money to pay for the war. But the Government then paid back that borrowed money with increased tax revenue. You might say the W2 form in 1943 saved the day back in the day and ushered in a rapid pace of growth, prosperity and American prestige around the globe as the nation headed into the 21st century.
What will save us now in 2014? With annual trillion-dollar deficits and national debt approaching the unthinkable $20 trillion level, how is the US Government going to collect more funds from a shrinking income tax paying base to pay back all the borrowed money. Is there another W2 type of scheme waiting in the wings? I believe there is.
Imagine a National Sales Tax replacing the Income tax. All that offshore money will quickly return to the US. The underground economy would vanish. Tax receipt collections as a percent of GDP would rise as much if not more than it did back in 1943. when the W2 appeared on the scene.. A National Sales Tax in my view is a way to pay for necessary Government spending on domestic entitlements without cutting essential defense and military protection provided by our armed forces. If you agree that a National Sales tax is the answer to an ever shrinking national tax base tell your elected representatives that you support a National Sales Tax to replace the obsolete Income Tax.. The National Sales Tax, a 21st century replacement for the 20th century W2.
Thank you for joining
Chris Moss CPA
on
TaxView
Kindest regards
Chris Moss CPA